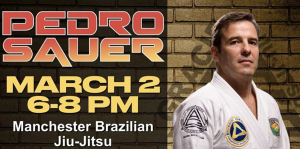 PMA will close on Wednesday, 3/2, so we can all attend this seminar. Please get tickets now  (click above image, to be taken to Eventbrite)!
New blue and purple belts, get them signed by
Pedro Sauer
. New students, please allow me to introduce you to your jitsu lineage! He's a great instructor and person, who I'm proud to have as my instructor, and I want him to know you guys, and for you to see what he does. I'd like everyone to save their pennies all year to make sure they attend this once-yearly visit to CT.
We'll make an outing of it, and grab food afterwards, as a team. Go grab your spot!